About the President's Distinguished Alumni Award
Established in 2010, the President's Distinguished Alumni Award has been presented annually to graduates of Atlantic Cape that have differentiated themselves through a combination of professional, academic, and community-based accomplishments and have also remained committed to supporting Atlantic Cape, its mission, and most importantly, its students.  
Distinguished Alumni Award
The President's Distinguished Alumni Award is presented to Atlantic Cape graduates who have made significant contributions in their professional field, community, and/or through humanitarian service.  A strong dedication to Atlantic Cape's mission, student population, and legacy, is also a key factor in selecting recipients.
Young Alumni Achievement Award
This honor is bestowed upon an alumnus/a who is 40 years of age or younger and has excelled in his/her profession, made positive contributions to his/her community, and remained connected to Atlantic Cape while supporting its mission and values.
Nominations for the 2024 Distinguished Alumni Awards
We are currently accepting nominations for the 2024 President'sDistinguished Alumni Award and Young Alumni Achievement Award! Eligible candidates must have completed a degree or certificateprogram at Atlantic Cape or the Academy of Culinary Arts. Please note, you cannot nominate yourself for either award.
Nominations will be accepted through January 26, 2024. The Distinguished Alumni Award Selection Committee will review the candidates and select the award recipients in February. Recipients of the President's Distinguished Alumni Award and Young Alumni Achievement Award will be honored during a special dinner at Careme's Restaurant in April. Awardees will also be recognized during the college's commencement ceremony in May 2024.
For more information about this award or the nomination process,please contact Kristin Jackson at
kjackson@atlanticcape.edu or (609) 463-3621. Please click the button below to nominate a deserving AtlanticCape graduate today!

Learn About the 2023 Award Recipients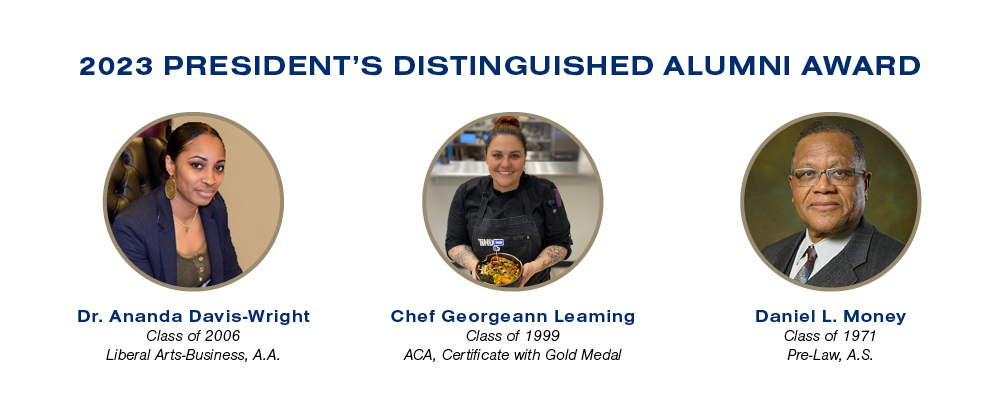 Dr. Ananda Davis-Wright, Class of 2006
Liberal Arts - Business Administration Option, A.A.
Dr. Ananda Davis-Wright graduated from Atlantic Cape in 2006 with an Associate of Science in Business Studies. She obtained a Bachelor of Science degree in Business Management from Stockton University, then a Master of Arts in School Administration from Grand Canyon University, and later a Doctorate of Philosophy also from Grand Canyon University.
Dr. Davis-Wright is the Principal of the Uptown School Complex in Atlantic City. Before her role as principal, she was the Vice Principal of Atlantic City High School, where she started out as a teacher before her vice principalship.
When Ananda attended Atlantic Cape, she was a young mother who unsuccessfully tried to balance motherhood with studies at a local 4-year University. She enrolled in Atlantic Cape, where she thrived. With the flexibility she needed to balance being a mother and a full-time student, she later graduated from Atlantic Cape with two honors, and was able to move onward to that same 4-year University with confidence, where she finished her Bachelors in two years.
Ananda credits her experience at Atlantic Cape to building the confidence that has allowed her to continue her educational journey, which eventually led to her doctorate program and the grassroots of her leadership skills as a principal in Atlantic City.


Chef Georgeann Leaming, Class of 1999
Academy of Culinary Arts, Certificate with Gold Medal
Chef Georgeann Leaming graduated from the Academy of Culinary Arts in 1999. She considers herself a "late bloomer" by traditional culinary standards. It wasn't until the age of 23 while working as a preschool teacher and pregnant with her daughter, Kirsten, that she decided to take a risk by enrolling at the Academy of Culinary Arts to pursue her childhood fascination with cooking and food. 
Currently, she is one part of a three-woman restaurant consulting team, AMG Collective. She also is co-owner/chef of Zang Croissants, a bakery pop-up shop located within the campus of Atlantic Cape Community College. Last year she was the opening Culinary Director at Foodiehall, a new 4,000 sq ft take out & delivery-only restaurant, which currently houses seven restaurant concepts, all of which she created. Before Foodiehall, she split her time between restaurant consulting and culinary instruction at her alma mater, The Academy of Culinary Arts, and personal online cooking classes.
Leading up to the pandemic, she was the chef de cuisine of R2L Restaurant in Philly (since closed due to Covid). Before R2L, she had a very successful run as the executive chef of Gordon Ramsay Pub & Grill, and then as the opening executive chef of Gordon Ramsay Steak.
Chef Leaming is also the champion of the episode "Peri Peri Determined" on Food Network's Chopped series and also was a competitor on the series, Man Vs. Master, episode 1, streaming on Hulu. With a diverse background that spans over twenty years, her vast experience includes co-owning two popular Philadelphia eateries with a Best of Philly Award for upscale Italian cuisine. She also had the opportunity to be the food stylist for the Cooking Channel show, Where Chefs Eat, Philly Edition with hosts Ted Allen and Mike Solomonov.

Daniel L. Money, Class of 1971
Pre-Law, A.S.
Daniel Money graduated from Atlantic Cape in 1971 with an Associate of Science in Pre-Law. He earned a Bachelor of Science in Criminal Justice at Glassboro State College (now Rowan University). He went on to be an Ocean City Police Officer from 1966-1971, and later a Detective for the Cape May County Prosecutor's Office from 1971-1972.
However, the 1970s brought a change to Daniel's life, and he soon left law enforcement and pursued a career in education, where he earned a Bachelor of the Arts in Education and a Master's Degree in School Administration.
Throughout the 1970s, Daniel's career in education grew at the Cape May County Vocational Technical Center, starting as a teacher in 1972 and eventually climbing the ranks to Principal in 1977 and serving until 1990.
From 1990-2007, he then went on to be the Principal of Burlington County Institute of Technology, where he received various awards, such as the 1998 Burlington County Administrators Association Golden Lamp Award, and the 1999 State of New Jersey, Metlife Principal of the Year, to name a few.
His career then took him to the New Jersey Department of Education, where he served as a CAPA Consultant, and SIG Network Turnaround Officer before he served as the Principal of Oakcrest High School from 2013-2015.
Throughout his life, Daniel has always believed in the phrase "Pay It Forward;" he now serves as a Leader to Leader Principal Mentor/Coach as he gives back his wisdom to the future generation of school district leaders. He also currently serves on Atlantic Cape Community College's Board of Trustees, where he is instrumental to initiatives that improve Atlantic Cape's services to our students and community, and ensures the quality of education students can receive right at home at a price that they can afford.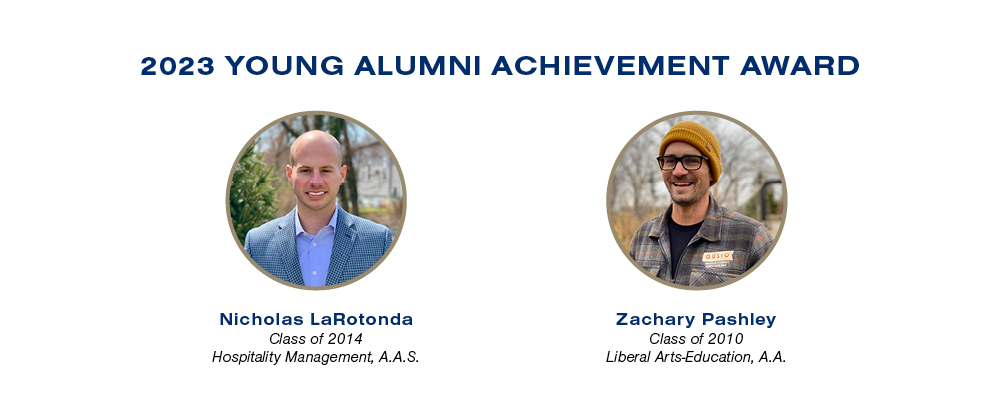 Nicholas LaRotonda, Class of 2014
Hospitality Management, A.S.
Nicholas graduated from Atlantic Cape Community College in 2014 with an Associate Degree in Hospitality and Tourism Management. He then obtained a Bachelor's Degree in Hospitality and Tourism from Fairleigh Dickinson University.
While at Atlantic Cape, he worked at the Golden Nugget in several management positions, and was a volunteer firefighter in Absecon, and as of 2016, holds the ranking of Captain for the Absecon Volunteer Fire Department.
Upon graduation from Atlantic Cape, he became the Director of Marina Operations at the Golden Nugget and was selected as the Leader of the Quarter in 2014. He also was recognized by Atlantic City Weekly's Top 40 under 40 in 2016.
Later in 2016, he left the Golden Nugget to pursue his dream as a Firefighter/EMT at Atlantic City International Airport. Since 2019, he also currently serves as a Fire Inspector for the City of Linwood. Nicholas is also the City Council President for Absecon and the Executive Director for the Atlantic County Republicans.

Zachary Pashley, Class of 2010
Liberal Arts - Education Option, A.A. 
Zachary Pashley graduated from Atlantic Cape Community College in 2010 with an Associate of Art in Education. Before he could participate in Commencement, he enlisted in the United States Coast Guard and began basic training.
He served in the Coast Guard for six years, operating between Central and South America. His team was awarded three Commendation Medals for their participation in rescues, drug seizures, and repatriation migrant interdictions.
After his service, Zachary received his Bachelor of Arts degree in Business Studies in 2018, and he and his wife are now the owners/founders of Gusto Brewing Company in North Cape May.
Gusto was awarded the Best Veteran-Owned Business by the Cape May County Chamber of Commerce in 2019 and has raised over $65,000 for various charities and families in need. These monies have been donated locally and internationally.
Zachary credits his experience at Atlantic Cape Community College to approaching all his obstacles thereafter–including how he prepared for his career in the Coast Guard, furthering his education at Stockton University, and opening his own business.
Previous Distinguished Alumni Award Recipients
President's Distinguished Alumni Award Recipients
Terry Budd '78
Greg Lasher '97
William McCarrick '84
Young Alumni Achievement Award Recipients
Taylor Henry '16
Jerome S. Ingram, Jr. '04
President's Distinguished Alumni Award Recipients
Madeline Quinn Seidenstricker '71
Donna Vassallo '85
Young Alumni Achievement Award Recipients
Pamela Shute '06
Harry Walk '09
President's Distinguished Alumni Award Recipients
Mayor Beth Holtzman '82
Dennis Kelly '78
Young Alumni Achievement Award Recipients
Richard Russell, Jr. '99
Kyle Schachner '16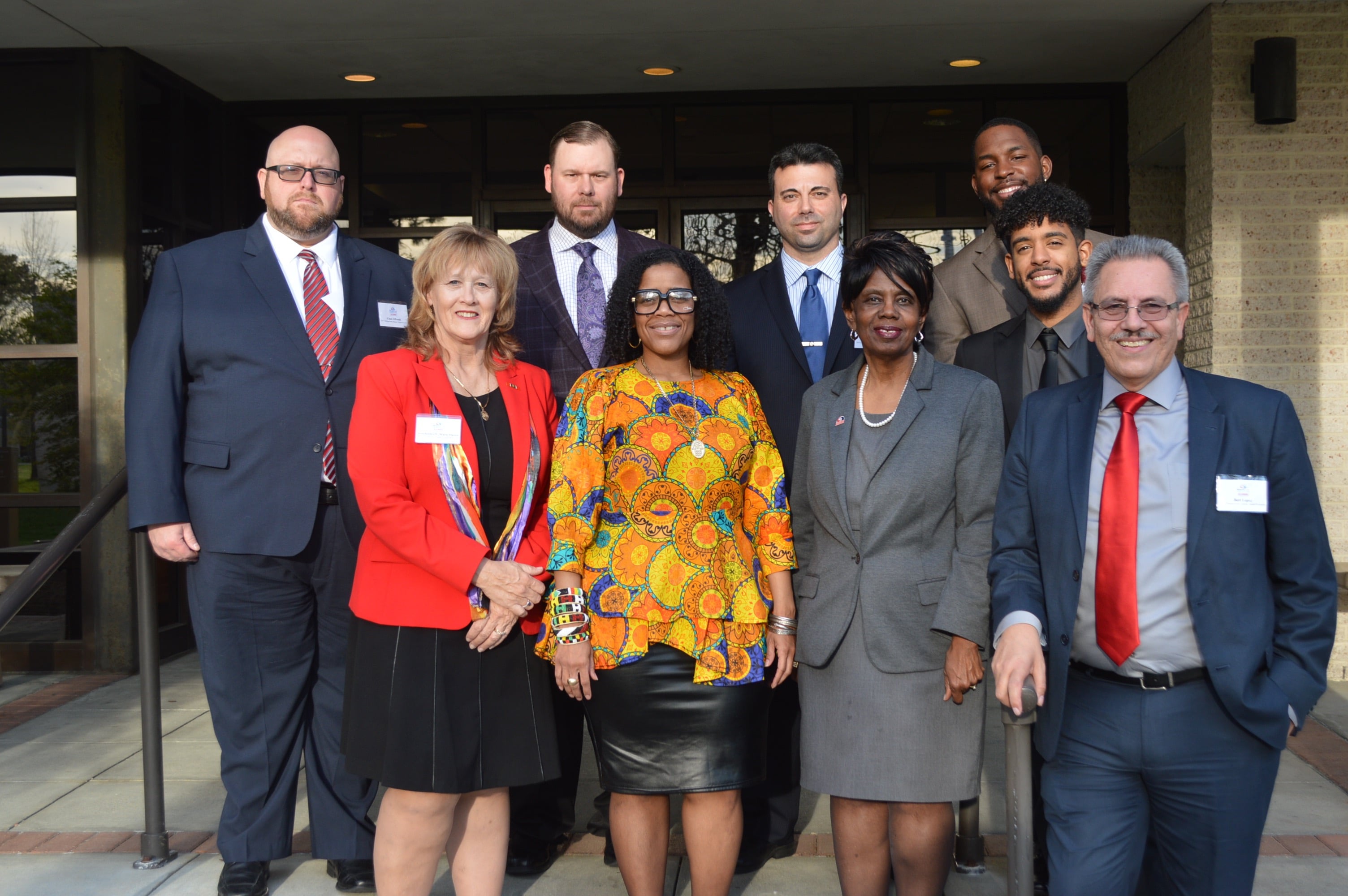 Top row from left: Chad Affrunti '05, James Hennessey '00, Deputy Chief James Sarkos '96, and Nathan Evans, Jr '15.
Bottom row from left: Freeholder E. Marie Hayes '79, Toshira Maldonado-McIntosh '08, Atlantic Cape president Dr. Barbara Gaba, Felix Contreras-Castro '14, and Bert Lopez '81.
Raymond Davis, '92
Maria Mento, '77
Dr. Robert L. Vogel, '68
Dr. Brian Kirchner, '78
MaryAnne Figueroa, '86
Chef Joseph Sheridan, '96
Dr. Carole Dieterly, '08
Kimberly Richardson, '10
Gloryvie Reyes, '01
Terri Lu Schieder, '79
Dr. Valerie Travis-Reese, '82
Katherine M. Morris, Esq., '90
Michael R. Rann, Esq., '88
Janice DeCicco Fipp, Ed.D., '70