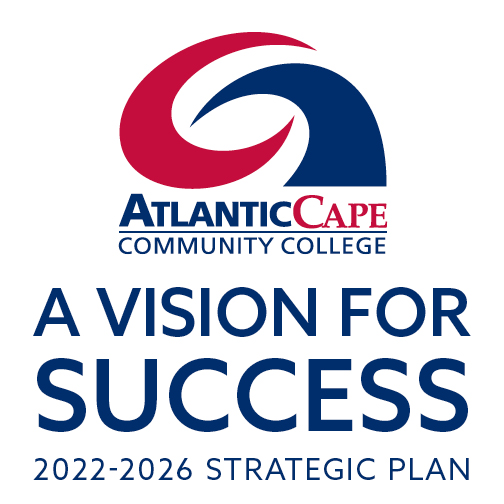 Mission
Atlantic Cape Community College provides inclusive, accessible, and equitable educational programs and services to transform lives and empower students to successfully meet their academic, social and career goals, while also supporting the diverse needs of our community.
Values
Student-Centered: Remove barriers to maximize student success.
Respect: Celebrate and value a diverse, equitable, and inclusive culture.
Integrity: Responsible and ethical use of resources.
Excellence: Provide the highest quality programs and services.
Collaboration: Nurture academic, business, industry, and community partnerships
Innovation: Encourage creativity, flexibility, and change.
Vision
Atlantic Cape Community College provides an innovative, student-centered approach to learning.
The College anticipates and fulfills academic and workforces needs, strengthens our community's economy and partnerships to create seamless pathways to maximize student growth and success. An integral part of the community, known as a caring institution focused on delivering quality educational programs and support services throughout all aspects of the student experience both inside and outside of the classroom.
Goals
Goal 1: Engage
Ensure high quality and equitable student, employee, and community stakeholder experiences.
Goal 2: Support
Provide innovative services designed to bolster student progress and wellness that enhance the educational experience.
Goal 3: Educate
Cultivate an innovative and inclusive climate for high quality learning across the college community responsive to both immediate challenges and long-term needs.
Goal 4: Achieve
Eliminate barriers to increase academic, social, and career goal attainment for all students.
Goal 5: Excel
Provide fiscal, physical, human, and technological resources that maximize efficiency while delivering innovative, responsive and inclusive programs and services that foster excellence.