Parking is available for students at all Atlantic Cape locations. Students must provide proof of registration at Atlantic Cape when applying for a parking decal, and must pay an annual parking fee. A current parking sticker must be displayed on the vehicle's rear window, driver's side.
Parking permits will not be issued to persons charged with delinquent fines unless payment for all charges accompanies the permit application. All vehicles must park in designated lots, unless otherwise directed by Security personnel. Students may park vehicles in white-lined spaces only. No parking is permitted on grass areas, road shoulders or tow-away zones.
Parking in handicapped zones is strictly forbidden without a handicapped parking permit. Permits and a copy of the motor vehicle regulations brochure can be obtained from the Security Office located in U Building on the Mays Landing main campus or at the security desk at the City Center.
Atlantic Cape Electric Vehicle Charging Stations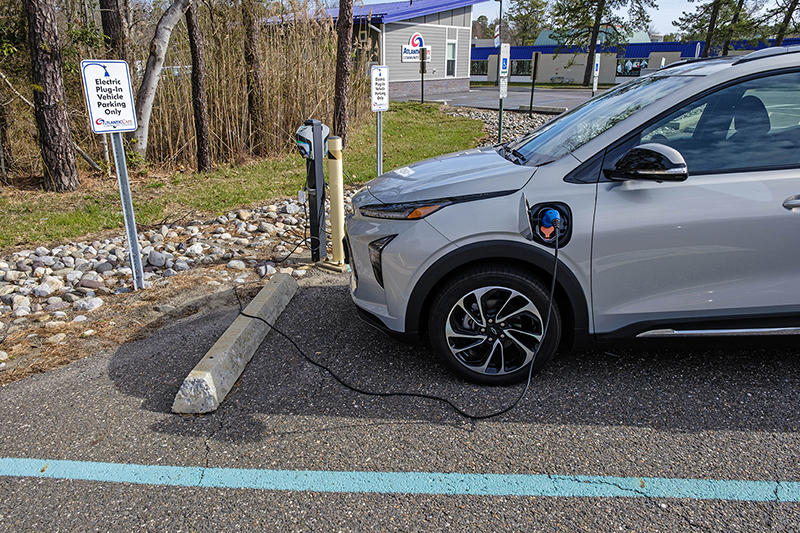 Atlantic Cape Community College's Mays Landing campus calls the New Jersey Pinelands National Reserve home and is therefore committed to promoting environmental sustainability, not just in Mays Landing, but across its Atlantic City and Cape May County campuses, as well.
Reducing our campus energy consumption is one of Atlantic Cape's sustainability goals so we have installed four (4) electric vehicle charging stations at the Mays Landing campus adjacent to Security Building U in Parking Lot 1. The charging stations are free to the public, college staff, faculty and students.
To use a charging station, simply following these easy steps:
Download the TurboDock app to your SmartPhone
Select your charger number (1-4)
Input the code (1971)
Turn on the charger via the TurboDock app
Plug the charger into your vehicle
The electric vehicle owner assumes all responsibility for the use of the charging station.
Atlantic Cape is committed to environmental sustainability. The Administration is responsible for developing and stewarding sustainability goals that include: striving for building efficiencies, reducing energy consumption, ensuring recycling programs and sustainable landscape practices, promoting sustainable business practices, and working with the community to develop academic and career training renewable energy and sustainability programs.
Public Transportation
Public transportation is available to our sites. Check out these links for more information:
Bus Service
New Jersey Transit buses between Atlantic City and Atlantic Cape run hourly, 8 a.m. to 9:45 p.m. For more information, call the NJ Transit's Telephone Information Center at 1-800-582-5946 or visit NJ Transit (Bus Service). A complete schedule is also available in the Student Activities Office, J Building, first floor.