Institutional Research, Assessment and Planning facilitates and provides the fundamental support for the college-wide strategic assessment, planning, accreditation, and data informed decision making in an effort to continuously improve Atlantic Cape.

Senior Manager, Institutional Planning and Assessment
Jennifer Martucci, B.A.
(609) 343.5672

Institutional Research designs research studies and analysis for projects such as program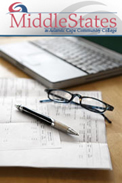 reviews, accreditation reviews, budget planning and gathers information for specific ad hoc inquiries. The IR team has access to campus-wide data systems, and they maintain historical data for quick reference. In addition to the daily ad hoc inquiries, the IR team adheres to mandated state and federal reporting requirements.