Return to All News
Annual Women of Wonder Luncheon Recognizes Four Outstanding Cape May County Community Recipients
11/08/2023 | Media Contact: David Zuba, Public Relations Manager and Copywriter | (609) 343-4933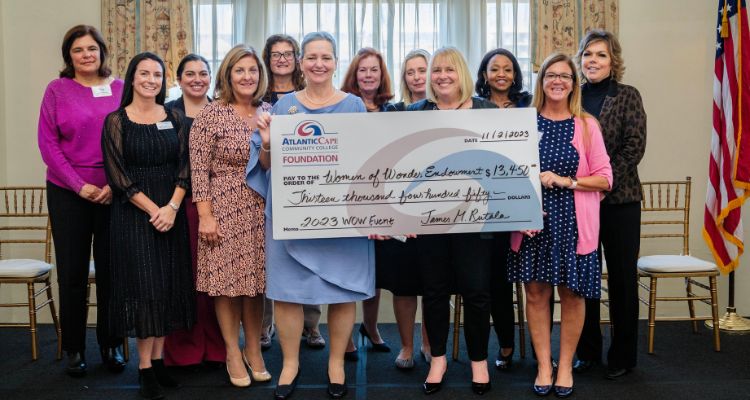 OCEAN CITY — In recognition for their outstanding contributions and for helping to serve others in the community, the Atlantic Cape Community College Foundation and the Cape May County Women's Commission honored Tracey Boyle-DuFault, Sandra Lockhart, Terri Mascione and Jennifer Shirk at the 2023 Women of Wonder Luncheon on Thursday, November 2 at The Flanders Hotel in Ocean City.
"It is good to see so many of you here today to honor such accomplished and well-respected women. Thank you for your support of these honorees and the students attending Atlantic Cape Community College," Atlantic Cape Foundation Executive Director Jean McAlister said. "Proceeds from today's event will go toward the Women of Wonder Scholarship Endowment Fund, which was established in 2021. You are all making a difference in Cape May County."
This year's Women of Wonder event raised $14,150 (additional donations have been raised since the check presentation total of $13,450), topping last year's $12,100 amount, towards providing scholarships for young Atlantic Cape female students who wish to attend college and who otherwise may have been unable to afford to do so. Begun in 2011, Women of Wonder not only recognizes local women for their unselfish and heroic work, it also provides young women with the opportunity to realize their educational dreams and potentially become future leaders in their respective communities.
Boyle-DuFault, executive director of the Greater Wildwood Chamber of Commerce, has dedicated herself to the growth and development of the Greater Wildwood community. During her 17 years of leadership with the Greater Wildwood Chamber, Boyle-DuFault has played a crucial role in nurturing local businesses and fostering collaboration with local organizations.
"I would like to thank the Cape May County Women's Commission and Atlantic Cape Community College for this honor. I would like to congratulate Sandra, Terri, Jennifer and Laurie (posthumously) for also being named a Woman of Wonder and it is my privilege and honor to share this honor with you and the amazing work you do (and have done) in the community," Boyle-DuFault said.
She spoke of an important word of advice that was passed down to women looking to successfully advance in their professional careers.
"The 10 people you surround yourself with are, in fact, the people you are the most like, so choose them wisely. Choose people who value you, who want to be liked, people who hold the same principles and aspirations as you, people who will help you achieve goals that you have set for yourself and your team, and people who will have your back when times are hard," Boyle-DuFault said.
Lockhart, operations director at The Branches Outreach, has been affiliated with the organization since its inception in 2007. She began as a volunteer with her husband, Father Ron Lockhart, and her responsibilities grew along with the organization. Lockhart has also been active in many phases of parish life where she has served as a senior warden, vestry member and eucharistic minister.
Mascione, program director at The Branches Outreach, came to the organization in 2015 after experiencing the tragic passing of her son to an overdose. Mascione, a retired nurse, honors her son's memory every day by caring for those facing similar issues. She holds a special place in her heart for children by organizing special events, such as trips to the water park, and an ice cream truck, water slide and bounce house, for the children who live in local motels. She also provides gifts every Christmas and Easter for those children.
Lockhart and Mascione humbly accepted their recognition as a Women of Wonder.
"I can honestly tell you, in all of the years that Terri and I have worked together, we have never considered ourselves women of wonder. We are just two women who love what we do, serving the homeless and marginalized," Lockhart said. "We also cannot do what we do without the help of our amazing volunteers. We are very proud of them. We are blessed to serve the people that we work with and the people that we serve for."
Shirk, author and president of the Ocean City Free Public Library Board of Trustees, enjoys penning sweet and sometimes funny romance novels. She has written 10 full-length books and one novella. She earned the 2013 Golden Quill Published Authors Contest for Best Traditional Romance with her novel, Sunny Days for Sam. Another novel, Fianceé by Fate, a 2015 Reader's Crown Finalist, became a #1 romance series best seller.
"It's humbling to be recognized, and even more so, when I stand with such incredible giving women," said Shirk, who thanked her mother, on her birthday, for having a strong and positive influence on her life.
The Atlantic Cape Foundation and Women's Commission also paid a special "in memoriam tribute" to the late Laurie Johnson, former executive director of Family Promise of Cape May County, for her many important and lasting contributions to the community. Johnson was born and raised in Cape May County. Prior to her position at Family Promise, Johnson, who passed on May 29, 2023, held various jobs including bank teller, door-to-door vacuum salesperson, birthing instructor, Sunday School teacher and restaurant owner.
Villas resident Roxanne LaPlant, an original 2011 Women of Wonder Scholarship recipient, was invited to speak to the importance that her scholarship played in allowing her to graduate from Atlantic Cape in 2016 with an associate's degree. LaPlant is a mother and is continuing her education in hopes of possibly becoming a paralegal.
For more information, visit the Atlantic Cape Community College Foundation at atlantic.edu/foundation and the Cape May County Women's Commission at capemaycountynj.gov/Womens-Commission. View a photo gallery of this event here on Flickr. 
About Atlantic Cape Community College Foundation
Atlantic Cape established the Foundation in 1978 as a 501(c)3 nonprofit charity to build a broad base of financial support for its programs and services. Foundation members are drawn from local industry and small businesses and represent a broad cross-section of active leaders in the community. The Foundation has raised more than $5 million for scholarships, Foundation operations and to enhance academic programs and the campus environment. Annually, the Foundation provides nearly $600,000 for institutional scholarships, grants and emergency help.
About the Cape May County Women's Commission
The Cape May County Women's Commission is dedicated to providing a forum to increase the participation of county women and consulting with other groups and/or government agencies in order to propose programs that foster equality, achievement, and justice. The Commission is passionate about studying the needs, problems, capabilities, interests, and concerns of Cape May County women and girls.