Return to All News
Atlantic Cape and Stockton University Sign 3+1 Pathway Partnership Agreement
10/03/2023 | Media Contact: David Zuba, Public Relations Manager and Copywriter | (609) 343-4933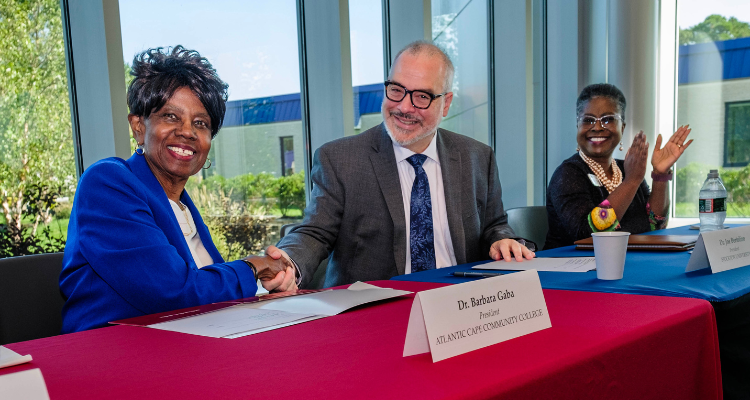 MAYS LANDING — Atlantic Cape Community College President Dr. Barbara Gaba and Stockton University President Dr. Joe Bertolino officially signed off on a 3+1 pathway partnership agreement between the two institutions of higher learning on Monday, October 2 in the STEM building lobby on Atlantic Cape's Mays Landing campus.
This partnership will allow Atlantic Cape students, after completing their associate degree, to enroll in the Advanced and Continuing Education Studies associate degree program to earn up to 90 Atlantic Cape credits that may be transferred to a corresponding Stockton University baccalaureate degree program in Liberal Studies.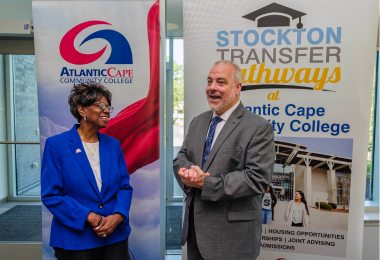 "We have a long history of partnering with Stockton University, our fellow anchor institution, and we are very proud to continue this partnership to bring this new program to Atlantic Cape and Stockton, as it offers students the opportunity to earn both an associate's and bachelor's degree at an affordable rate and with a seamless transition, providing a life-changing college education that they can use to enhance their career opportunities," Gaba said.
Gaba thanked Atlantic Cape's Senior Vice President of Academic Affairs Dr. Josette Katz and Senior Dean of Liberal Studies and Culinary Arts Dr. Denise Coulter, who were both instrumental in crafting this collaborative agreement and strengthening the partnership between Atlantic Cape and Stockton.
"It is our hope and intention that this program be mutually beneficial to both institutions and will provide a unique opportunity for Atlantic Cape students to meet their education goals," Gaba said. "It is Atlantic Cape's mission to create opportunity by providing access to excellent programs and services that successfully meet student's educational goals. I am proud that we are able to further our mission through university partnerships, articulation agreements and degree pathways that serve to expand opportunities to an affordable and high-quality education."
Through this program, students are empowered to plan their full educational experience in a cost-effective way that will begin at Atlantic Cape and culminate in a baccalaureate degree from Stockton University. Students will complete their associate's degree and their junior year of Stockton on Atlantic Cape's campus at the community college tuition rate. The student's senior year would be completed at Stockton and at the four-year university's tuition rate.
"This continues to strengthen the relationship between Stockton University and Atlantic Cape Community College by expanding the opportunities for students to seamlessly pursue an associate degree and bachelor's degree at our two institutions," Bertolino said. "Being able to transfer 90 credits from Atlantic Cape to a corresponding Stockton degree and earning a Bachelor of Arts in Liberal Studies is an amazing opportunity that benefits the students of the region. It is a versatile degree and our graduates have been successful in securing employment in virtually any industry, including state and local government, hospitality, health sciences and education."
Current Stockton University student and Atlantic Cape alumnus Kevin Barksdale, a 12-year military veteran who earned an Associate's Degree in General Studies and Computer Systems Support from Atlantic Cape in 2020, testified to the benefits about his seamless transition from Atlantic Cape to Stockton University.
"My positive experience at Atlantic Cape was from the willingness of my teachers to help and to the tutors helping me when I needed it. Plus, I was determined to get the job done," Barksdale said. "I chose Stockton because, just like Atlantic Cape, they are military-friendly and it is close to home. My college recruiter informed me that as a veteran I would be automatically accepted into Stockton. It was not difficult, I filled out the information on a laptop and I was a member of Stockton.
Visit atlanticcape.edu/3plus1Stockton to learn more about this collaborative effort between Atlantic Cape and Stockton University.
About Atlantic Cape Community College
Atlantic Cape is a comprehensive two-year community college serving the residents of Atlantic and Cape May counties. The college offers over 40 career, transfer and workforce development programs to more than 8,000 students annually at three campuses in New Jersey: Atlantic City, Cape May Court House and Mays Landing.

About Stockton University
Stockton University is ranked among the top public universities in the nation. Our more than 9,000 students can choose to live and learn on the 1,600-acre wooded main campus in the Pinelands National Reserve in South Jersey and at our coastal residential campus just steps from the beach and Boardwalk in Atlantic City. The university offers more than 160 undergraduate and graduate programs. Learn more at stockton.edu.