Return to All News
Atlantic Cape's Speaker Series Hosts Author and Businessman Stedman Graham at Cape May County Campus
09/28/2023 | Media Contact: David Zuba, Public Relations Manager and Copywriter | (609) 343-4933

CAPE MAY COURT HOUSE — Atlantic Cape Community College, along with its sponsors the Atlantic Cape Community College Foundation and Cape May County Chamber of Commerce, hosted Stedman Graham, best-selling author, business advisor, and chairman & CEO of S. Graham Associates, at its Speaker Series event on September 26 at Atlantic Cape's Cape May County campus.
"We couldn't be more excited or happy to kick off this year's Speaker Series with Cape May County's Stedman Graham," Krista Fitzsimons, director of Atlantic Cape's Cape May County campus said during her opening remarks. "Thank you to the Foundation, who without them this wouldn't be possible, and the Cape May County Chamber of Commerce for providing the wonderful breakfast this morning. This event is a couple years in the making and lots of people worked really hard to get this off of the ground."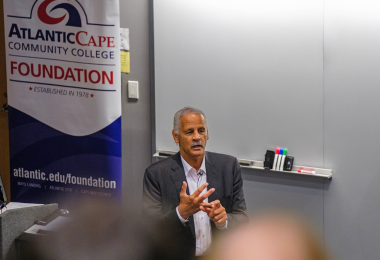 The invitation-only event presented Graham, who conducts global lectures and training for corporations and educational organizations on Identity Leadership, which is based on a philosophy that one cannot lead anyone else until you first lead yourself. His proven Nine Step Success Process® drives his powerful message.
Graham is a native of Whitesboro in Cape May County, and is dedicated to youth and community. He is the founder of the Concerned Citizens of Whitesboro, the Concerned Citizens of Lake Waccamaw, NC and co-founder of the Community Alliance for Youth Success. Graham is an Army veteran and former professional basketball player. He holds a Bachelor's Degree in Social Work from Hardin-Simmons University and a Master's Degree in Education from Ball State University. He has also been awarded three honorary Doctorate Degrees.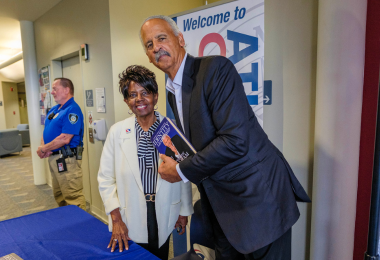 Those in attendance began their morning with a continental breakfast and networking hour in the campus lobby prior to the start of the Speaker Series event in the lecture hall. Graham began his interactive discussion by talking about the new technologies of today, such as artificial intelligence, in this age of disruption that will change the way we work, while creating new opportunities for us that will require us to adjust the way we think.
Graham's ethos is to lift up the self, to discover our worth and to make sure we believe in ourselves in order to succeed in life. To do this, Graham says, we must have and believe in love by loving ourselves, loving those around us, loving life, and loving what we do day-in and day-out.
"Self is everything and you must know who you are to succeed. Organization is the highest level of development and if you are not organized you will not succeed," Graham said. "Develop your own program and develop your own opportunities."
Graham discussed his patented and proven Nine Step Success Process®, which includes knowing who you are, creating your vision, developing your travel plan, mastering the rules of the road, overcoming your fears, being flexible, creating a support team, making good choices and committing to your vision.
"Today was really about working with yourself and being your best self. It's having the identity, it's having a clear vision about where you are going and how you are going to get there, and it teaches people how to organize their lives around themselves," Graham said afterwards. "It allows them to empower themselves as opposed to having the world define who they are. To me, it's important to be able to get this message out and I teach this all around the world. So, I am very fortunate to be able to come here, because I just love it here in Cape May County, and being able to teach people how to discover themselves."
Afterwards, Graham personally met attendees and signed copies of his book, "Identity Leadership."
Atlantic Cape will host its second Speaker Series event with best-selling, award winning author Weina Dai Randel on Tuesday, October 3 from 7-8 p.m. on the Mays Landing campus at the Walter E. Edge Theater.
Visit https://events.atlanticcape.edu/event/speaker_series for more information. 
About Atlantic Cape Community College
Atlantic Cape is a comprehensive two-year community college serving the residents of Atlantic and Cape May counties. The college offers over 40 career, transfer and workforce development programs to more than 8,000 students annually at three campuses in New Jersey: Atlantic City, Cape May Court House and Mays Landing.