Return to All News
Atlantic Cape Announces Hiring of New Baseball Program Head Coach and Assistant Coach
08/31/2023 | Media Contact: David Zuba, Public Relations Manager and Copywriter | (609) 343-4933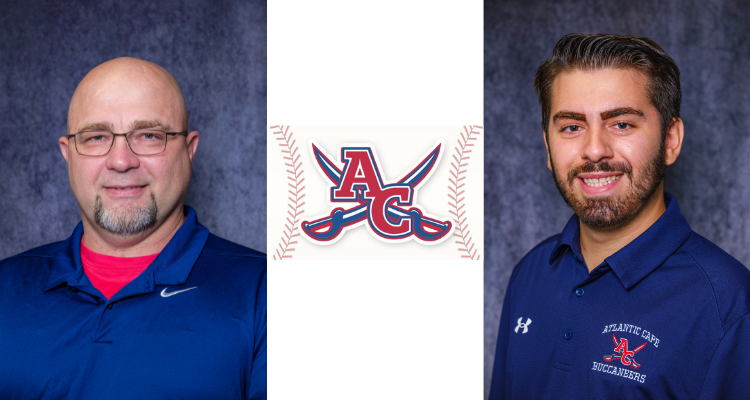 MAYS LANDING — Atlantic Cape Community College is pleased to announce the hiring of Craig Muckle as head coach and Joseph Schipsi as assistant coach of the Buccaneer baseball program.
"We are happy to welcome Craig Muckle and Joseph Schipsi to our Atlantic Cape Athletics Program. Coach Muckle's experience in guiding and mentoring student athletes throughout his career is impressive," said Athletic Director Jamal Edwards. "I am excited about what this new coaching staff will bring to our baseball program. I look forward to watching our coaches prepare our student athletes for the next level and I am confident that they will lead the program in the right direction."
Muckle (above left) is a United States Army and Navy veteran. He served three tours of duty in Afghanistan where he completed 150 missions safely. Most recently, Muckle was the assistant baseball coach for Nease High School in Vedra, FL from 2014-17. Prior to that he was a volunteer coach with St. Augustine, FL Little League (2012-14), Virginia Beach, VA Little League (2005-07) and Norfolk, VA Little League (1994-96) and volunteer senior league coach with Hammonton, NJ Little League (1997-2003). Muckle also has previous high school wrestling and football coaching experience as well. Muckle is currently a full-time custodian at Seneca High School and full-time maintenance at Shawnee High School.
Schipsi (above right), who is currently a coach at USA Prime Northeast, is a native of Williamstown, NJ. He graduated from St. Joseph High School in Hammonton, NJ in 2016, earned his Bachelor's Degree in Sports Communications and Media from Rowan University in 2021, and recently earned his Master's Degree in Coaching and Athletic Administration from Concordia University Irvine. Schipsi brings high school and college baseball playing experience with him to Atlantic Cape. He was a four-year varsity letterman at Hammonton High School, played two years for Division III Cabrini University where he was named to the 2018 NCAA Division III Colonial States Athletic Conference All-Academic baseball team. Schipsi also spent 2018 and 2019 playing for the AAU USA International Collegiate team where he earned Top Gun Pitcher of the Year honors in 2019, and the Falcon Award both years in recognition of his Character, Spirit and Enthusiasm.
Learn more at atlanticcape.edu/baseball.
About Atlantic Cape Community College
Atlantic Cape is a comprehensive two-year community college serving the residents of Atlantic and Cape May counties. The college offers over 40 career, transfer and workforce development programs to more than 8,000 students annually at three campuses in New Jersey: Atlantic City, Cape May Court House and Mays Landing.