Return to All News
Atlantic Cape Graduates Encouraged to Embrace Knowledge, Continue Learning and Dream Big at 56th Annual Commencement Ceremony
05/19/2023 | Media Contact: David Zuba, Public Relations Manager and Copywriter | (609) 343-4933

MAYS LANDING — Believe in the power to dream, be bold and be imaginative. These words of inspiration reverberated far and wide, and resonated in the minds and hearts of the nearly 350 graduates attending Atlantic Cape Community College's 56th Annual Commencement Ceremony on May 18 in the Quad at the Mays Landing campus.
On this day of reflection and celebration, Atlantic Cape awarded 790 associate's degrees to 773 graduating students from Atlantic and Cape May counties before a boisterous crowd of adoring family, friends and loved ones. Fifty-five associate's degrees were also conferred upon high school seniors taking part in Atlantic Cape's Early College Program.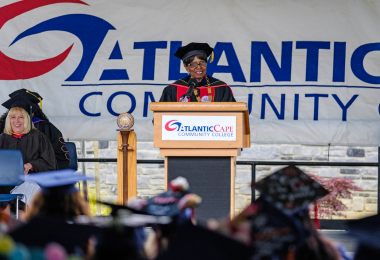 "I am thrilled to celebrate this momentous occasion with all of you. Graduates, we applaud you on your success in reaching this milestone," Atlantic Cape President Dr. Barbara Gaba said.
Judge Steven P. Perskie, a former New Jersey Superior Court Judge, State Senator and General Assemblyman, served as the Commencement speaker and provided words of wisdom to the Class of 2023.
"Each of you must shape your own future with your own values, your own talents and your own perspectives. Your future will be shaped, in large measure, by the scope of your dreams and your commitment and determination to achieve those goals you have set for yourself," Perskie said. "Set your standards high, dream the impossible dream with strong and steady commitment and apply it towards fulfilling that dream."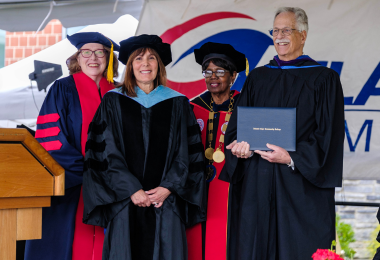 Perskie, who is currently the Assistant to the Mayor for Policy and Planning in Atlantic City, received an honorary Atlantic Cape Associate in Applied Science Degree in Hospitality Management.
Jasmin Caldwell, the outgoing Student Government Association President, who will be attending Stockton University as a Pre-Medicine and Biology major in the Fall, spoke on behalf of the college's student body.
"The future belongs to those who believe in their dreams. We all share bright futures because we all believe in our dreams and, most importantly, ourselves," Caldwell said. "As we move into this next chapter in our lives I hope you will all remain students and embrace knowledge. Make noise, leave impressions, ask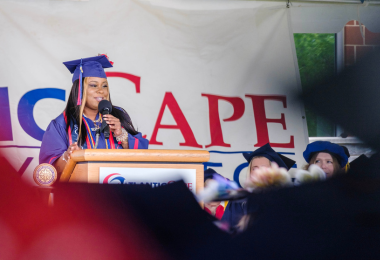 questions and ignite flames wherever you may go."
The Class of 2023's 4.0 High Honors Student, Ariqua Gilliss, who for the past 13 years has dreamed of completing her associate's degree, finally accomplished her goal at 29 years of age. Gilliss, who runs a successful business with her husband, gave the class farewell address.
"Atlantic Cape is truly top notch! Thank you for building a positive place for students to achieve success," Gilliss said. "If we can stop focusing on the numbers that don't matter and focusing on those that do, we can build a positive, happy community around us that fills us and others with joy."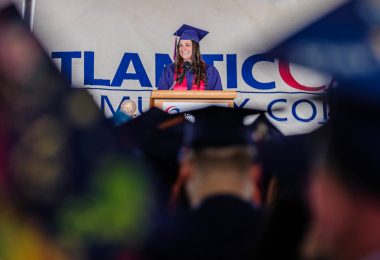 The Lindback Distinguished Teaching Award was presented to English Professor Stephanie Natale-Boianelli in recognition of her excellence and dedication to teaching at Atlantic Cape over the past 18 years.
"As someone who loves few things more than learning, working with students has always been important to me, and as someone who grew up in Atlantic County, working with Atlantic Cape students in particular has been meaningful work. To be recognized for this work, especially with past and recent students cheering for me from the graduating class, meant everything," Natale-Boianelli said.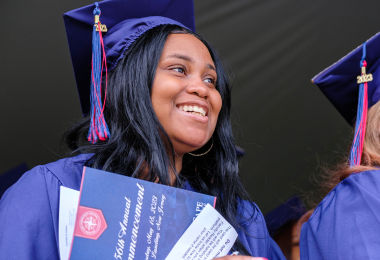 The 55 high school seniors who received their associate's degree from Atlantic Cape's Early College Program were from Cedar Creek High School (20), Pleasantville High School (16), Oakcrest High School (9), Middle Township High School (6), Absegami High School (3), and Lower Cape May High School (1).
This year's Distinguished Alumni recipients - Chef Georgeann Leaming '99, Trustee Daniel L. Money '71 and Dr. Ananda Davis-Wright '06 - and Young Alumni Achievement recipients - Nicholas LaRotonda '14 and Zachary Pashley '10 - were recognized by Dr. Gaba for their honors, which they received during the President's Alumni Distinguished Alumni Awards Dinner on March 23.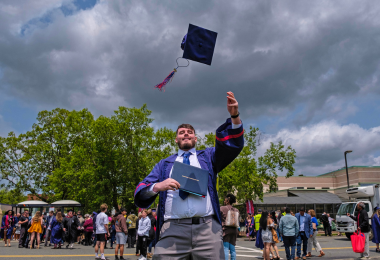 Congratulations to Atlantic Cape's Class of 2023!
Visit https://www.atlanticcape.edu/student-life/graduation/index.php to watch the Commencement video stream, read graduate spotlight stories, watch New Jersey Senator Cory Booker's video of congratulations to the graduates and more.
About Atlantic Cape Community College
Atlantic Cape is a comprehensive two-year community college serving the residents of Atlantic and Cape May counties. The college offers over 40 career, transfer and workforce development programs to more than 8,000 students annually at three campuses in New Jersey: Atlantic City, Cape May Court House and Mays Landing.