Return to All News
Atlantic Cape 2023 High Honors Graduate Chloe Cramutola of Hammonton Earns Full Scholarship to Boston University
05/31/2023 | Media Contact: David Zuba, Public Relations Manager and Copywriter | (609) 343-4933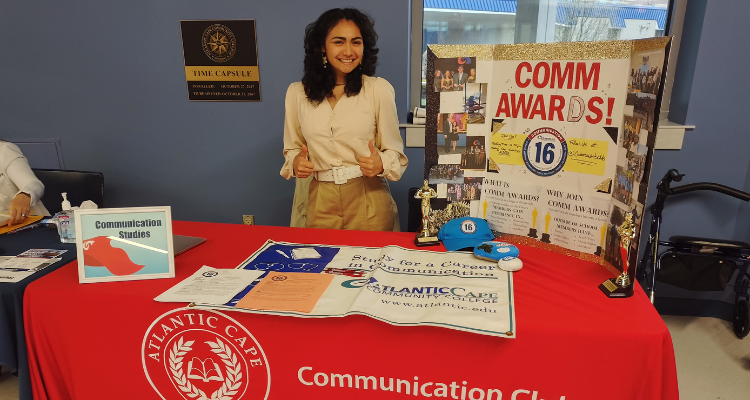 MAYS LANDING — From as early as seven years of age, while sitting in her home drafting two-sentence stories with accompanying pencil-drawn doodles at the bottom of the pages, Chloe Marie Cramutola enjoyed writing and knew deep down that the art of the written word was meant for her.
Cramutola's love of creative writing earned her an Associate's Degree in Communication from Atlantic Cape on May 18 with the highest of honors, a place on the prestigious Dean's/President' List for earning a GPA of 3.0 or higher in each of her semesters and a full scholarship to Boston University (BU) where she will be majoring in Journalism starting this fall.
"Atlantic Cape has been an amazing experience and a great stepping stone for me. I learned how to work hard, get involved and support one another," Cramutola said. "Coming to Atlantic Cape showed me that I really have a love for journalism. So, now I am working towards becoming a journalist while becoming the writer I have always wanted to be."
Excitement and anticipation are aplenty for the incoming freshman member of BU's Class of 2025.
"I visited last summer and I instantly loved everything about it from the campus itself to the city and the food," Cramutola said. "I chose BU because I love its academic environment and what they have to offer. It has always been my dream school and once I was accepted I immediately knew that I had to go there."
Along with her acceptance to BU, Cramutola also received offers from five other colleges, including Emerson College, New York University and the University of Pennsylvania.
The 19-year-old Hammonton native and 2021 Absegami High School graduate applied to many colleges, including BU, while in high school, but ultimately chose to attend Atlantic Cape. Over the past two years, she has immersed herself into the college experience by be an active member in multiple student clubs and organizations, such as the Atlantic Cape Review, Communication Awards Club, Asian Cultural Club, Radio Club, Pride Club, Archery team, Phi Theta Kappa International Honor Society, Educational Opportunity Fund Program and NJ STARS.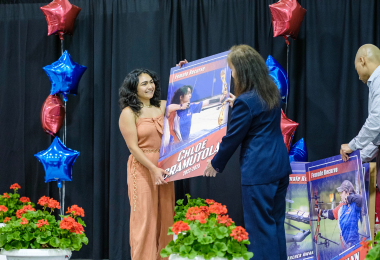 Her time at Atlantic Cape completely altered her impression of the community college experience for the better.
"I am so thankful for Atlantic Cape because it really changed how I look at school. There is a stigma with community college when in actuality the school is what you make of it. If you change your attitude you can find something really special right in front of you," Cramutola admitted. "I came to Atlantic Cape optimistically and I ended up finding more than I ever could have imagined from a community and a family to friends and mentors who have allowed me to cultivate my identity."
During the 56th Annual Scholarship Recognition Ceremony on May 15, Cramutola was awarded the Communication Alumni Scholarship from the Atlantic Cape Communication Alumni Council, the Libby Demp Forrest Moore Memorial Scholarship Writing Award from the Forrest Family and the Public Relations Council of Greater Atlantic City "Shore Scholarship."
At the 16th Annual Communication Awards Ceremony on April 28, Cramutola, while also being entrusted with hosting the glitz and glamour event, was recognized for her outstanding contributions throughout the year. She received the New Jersey Press Award, the Journalism Achievement Award, Best Crisis Communicator Award, Mentor and Senior Mentor Awards, and Outstanding Academic Achievement Award.
Communication Professor Keith Forrest spoke glowingly about his BU-bound graduate.
"Chloe is an extraordinary student--one of the best I have ever had in over two decades of teaching.  She seamlessly mixes a strong work ethic with incredible compassion and visionary creativity," Forrest said. "Chloe sees things and does things that most college students can't even dream of. Her nuanced understanding of problems and solutions is an attribute that most people never develop, even after going to graduate school, and she has mastered it in just two years."
Cramutola commended Forrest for his mentorship.
"Professor Forrest helped me so much, especially in finding my voice and confidence as a leader. He entrusted me to run the Communication Awards Club and the Awards Show," Cramutola said. "He has helped me grow not only as a student, but as a person outside of the classroom too.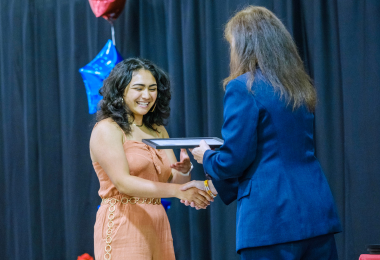 In the end, it all comes back to a nurturing upbringing and Cramutola gave praise to her parents.
"Of course, my mom and stepdad have been there every step of the way. They have always believed in me and pushed me to find something I love to do, something I am passionate about and I am so grateful for that."
About Atlantic Cape Community College
Atlantic Cape is a comprehensive two-year community college serving the residents of Atlantic and Cape May counties. The college offers over 40 career, transfer and workforce development programs to more than 8,000 students annually at three campuses in New Jersey: Atlantic City, Cape May Court House and Mays Landing.