Return to All News
Atlantic Cape and University of Phoenix Officially Sign Agreement on RN to BSN Collaborative Cohort Program
04/27/2023 | Media Contact: David Zuba, Public Relations Manager and Copywriter | (609) 343-4933

MAYS LANDING — Atlantic Cape Community College President Dr. Barbara Gaba, Dean of Nursing and Health Professions Myrna Morales-Keklak, and University of Phoenix Assistant Dean of Operations and Faculty Dr. Brandi Morse officially signed a partnership agreement creating a Registered Nurse to Bachelor of Science in Nursing (RN to BSN) Collaborative Cohort Program between the two institutions of higher learning during a ceremony at the Mays Landing campus on Wednesday, April 26.
"We are very proud to partner with the University of Phoenix to bring this flexible program to Atlantic Cape's students that provides an open-access opportunity to earn a BSN degree upon successful completion of their RN degree and exam, while lessening the financial burden of earning a college degree," Gaba said. "This cohort will allow our nursing students to earn credit toward a BSN during their journey here meaning they don't have to leave Atlantic and Cape May counties to advance their college career."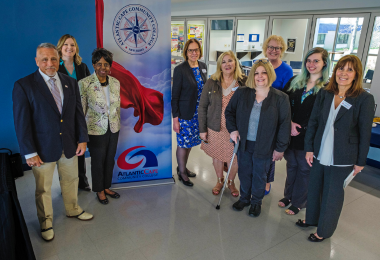 The open-ended agreement includes three online programs for Atlantic Cape nursing students, who will be eligible to transfer to the University of Phoenix at a tuition rate of $350 per credit hour and earn their bachelor's degree without having to leave home.
First, Atlantic Cape's Associate's in Nursing Degree graduates will be able to enroll in the University's RN to BSN Program and have the opportunity to have their tuition waived for every sixth course taken.
Once an RN to BSN Program student successfully completes five (5) program courses and begins his/her sixth course within one year of commencing the program, a tuition waiver for that sixth course will be earned. This process renews when the student begins his/her next five program classes. Students enrolled in the program may save over $1,000 when they have their sixth course's fee waived after completing the initial five. And, as a community college graduate, they will save over $1,500 in tuition costs thanks to the eligible discounted rate.
"Associate degree nursing programs change lives in a reasonable amount of time and cost, and they allow graduates to become professionals with a lifetime opportunity that can span generations," Morales-Keklak said.
Partnerships like these are vital towards training the next generation of nurses, particularly with the country suffering through a nursing shortage following the challenging times of the Covid-19 pandemic.
"We have a nursing shortage in this country especially since Covid. New nurses through programs like these are so important to the field and we are so excited to partner with Atlantic Cape to help those students continue their careers," Morse said.
Second, Atlantic Cape students currently enrolled in the college's RN program may be eligible to enroll in single online courses that are part of the University's BSN Program. After a CEP Cohort student completes his/her RN Program, they may be admitted into the University's BSN Program following an application review. Students accepted into the BSN Program will be eligible for financial aid.
Lastly, Atlantic Cape students currently enrolled in a qualified associate degree program that has been articulated by the University of Phoenix may be eligible to enroll in certain single University online courses that may be applied to specific University bachelor degree programs.
"It is Atlantic Cape's mission to create opportunity by providing access to excellent programs and services that successfully meet our students' educational goals," Gaba concluded. "I am proud to be able to further our mission through our university partnerships, which expand the pathways for affordable and high-quality education for our students."
Learn more at https://www.atlanticcape.edu/admission/partners-in-education/index.php.
Atlantic Cape is committed to providing accessibility accommodations. If you have a request, please contact cfa@atlanticcape.edu.
About Atlantic Cape Community College
Atlantic Cape is a comprehensive two-year community college serving the residents of Atlantic and Cape May counties. The college offers over 40 career, transfer and workforce development programs to more than 8,000 students annually at three campuses in New Jersey: Atlantic City, Cape May Court House and Mays Landing.