Return to All News
Atlantic Cape Hosts Local High School Students at College Awareness Day Workshops
04/03/2023 | Media Contact: David Zuba, Public Relations Manager and Copywriter | (609) 343-4933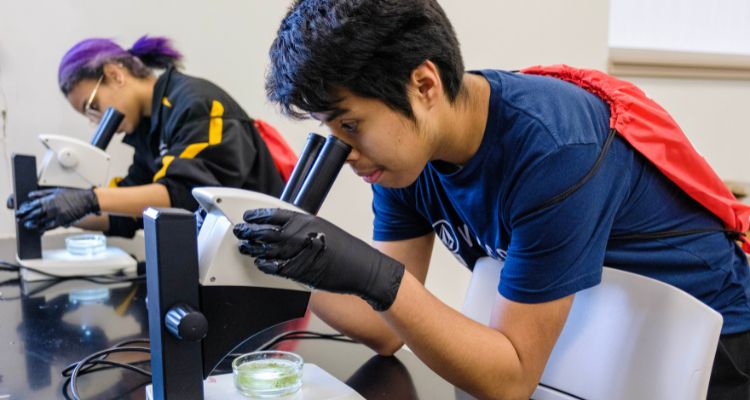 MAYS LANDING — The month of April is officially Community College Awareness Month and to kick off the month-long recognition of two-year institutions of higher education across the country, Atlantic Cape Community College hosted more than 100 local high school students at its Mays Landing campus for College Awareness Day on Friday, March 31.
Students from Atlantic City High School, CharterTech High School for the Performing Arts, Covenant House, Department of Children and Families Atlantic Regional School, Mainland High School, Middle Township High School, Ocean City High School and Pleasantville High School took time out from their normal day-to-day studies to get a closer look at college campus life.
"There are distinct advantages to attending a community college. We have a warm and inviting atmosphere, we provide a lot of assistance to our students, you don't get lost in the crowd, and you save a ton of money," Atlantic Cape Senior VP of Academic Affairs Dr. Josette Katz said to the students in attendance. "There are also a lot of resources available to you, such as a tremendous amount of grants and scholarships. Don't forget that many of your high schools offer dual enrollment courses so sign up for them because you can receive college credit for some of your high school classes."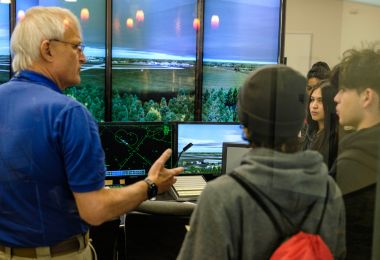 Following introductory remarks in the Walter E. Edge Theatre, the students attended workshops across campus that were geared towards their possible career interests. Workshops included media production & cybersecurity, health care & nursing, culinary, aviation & drones, science, business and a discussion with the Student Government Association on the various clubs and sports available at Atlantic Cape.
"It was well organized, the students seemed to enjoy it and they loved the different workshops. The culinary, nursing labs and aviation too were really good," said Department of Children and Families Atlantic Regional School Teacher Joanna Corwonski. "It was a nice day and I hope it helped them set a few goals."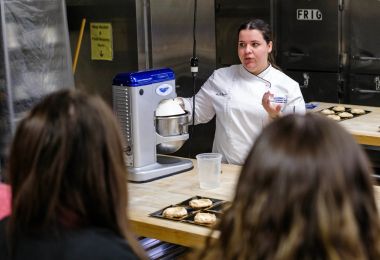 In the Culinary: Learn About Becoming a Chef session, Academy of Culinary Arts Chef Instructor Kirsten Leaming demonstrated how to make a lemon meringue pie to about 20 students, who were fortunate enough to do some taste tasting, as well. In the Aviation & Drones session, Aviation Operations Chair Tim Cwik spoke to nearly a dozen students about air traffic control operations and how the controllers speak to inbound and outbound pilots.
"The boys were surprised that they were going to be interested and they were really into Aviation. It was a really good day for everyone," said Department of Children and Families Atlantic Regional School Teacher Gary Capizola.
In the Wonders of Science session, Professor Jim Sacchinelli and Assistant Professor Kenneth Cabarle guided a dozen students as they viewed live insects, remnants of meteorites and single-cell organisms through the lens' of microscopes.
"The workshops were great with a lot of hands-on activities going on and with interaction between the staff here and the students," said Mainland Regional High School Counselor Casey LaFerriere. "It was a very valuable experience."
Keynote speaker Michael Forest, Jr., District At-Risk Coordinator from the Greater Egg Harbor Regional High School District, reminded students that life in college is different from what they are used to in high school.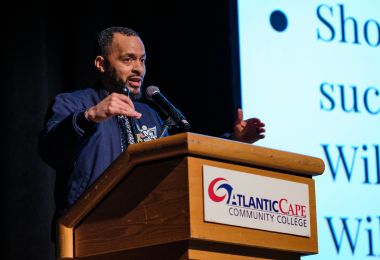 "Now, if you miss a couple days of school your parents are getting a phone call letting them know you were absent or you are missing assignments," Forest, Jr. said. "In college, there are no calls. If you are missing classes or your assignments, that's on you."
Forest reiterated to the students in attendance to stay true to themselves, to take the time to make connections, and be serious about their lives and their futures. To be legitimate, not a pretender.
"Today gave the students a great realistic look at what they would be doing at Atlantic Cape. There is so much that they hear about college, and to actually come on campus and see for themselves makes a huge difference," said Mainland Regional High School Post-Secondary Counselor Mike Anthony.
About Atlantic Cape Community College
Atlantic Cape is a comprehensive two-year community college serving the residents of Atlantic and Cape May counties. The college offers over 40 career, transfer and workforce development programs to more than 8,000 students annually at three campuses in New Jersey: Atlantic City, Cape May Court House and Mays Landing.