Return to All News
Atlantic Cape President Dr. Barbara Gaba Receives 2023 Woman of Achievement Award for Leadership in Higher Education
03/29/2023 | Media Contact: David Zuba, Public Relations Manager and Copywriter | (609) 343-4933

MAYS LANDING — Atlantic Cape Community College President Dr. Barbara Gaba learned from her mother at an early age the value of hard work, determination, leadership and the tremendous value of obtaining an exceptional education.
These qualities have served her well throughout her life and professional career in higher education, and culminated in her being named the 2023 Woman of Achievement Award recipient by the Public Relations Council of Greater Atlantic City on Tuesday, March 28 at The Smithville Inn in Galloway during the council's monthly luncheon.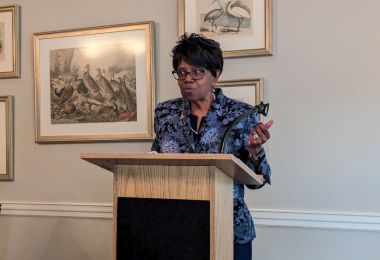 "I am deeply honored and humbled to receive the 2023 Woman of Achievement award. I am blessed to have a fantastic team behind me that works every day to make an impact on our community so that we can provide our students and community with the programs, services and resources they need to achieve their goals," Gaba said during her award acceptance remarks. "I am proud to be the first woman and African American President of Atlantic Cape Community College, in the college's history, but I did not get here on my own."
Gaba was a first-generation college student in her family, along with her younger siblings, and received encouragement from her mother, who placed a very high value on "getting a good education." Gaba also credits her mentor, Dr. Phyllis Della Vecchia, a former president at Camden County College, with planting the initial seed that stoked her desire to become a college president.
"When I was Dean of Academic and Student Support Services at Camden County College I was walking down the hall one day and Dr. Della Vecchia complimented me on a project I worked on, and then she said to me, 'Did you ever think about becoming a college president?'" Gaba said. "I was blown away when she said that. Quite frankly, I had never thought about it much after that, but she was the first person actually to put the thought in my head."
Gaba, who became Atlantic Cape's first African American and female president in January 2017, grew up on the Lower East Side of New York City. After earning her bachelor's degree, she received her first job in higher education as an academic advisor at Hunter College in New York City. Through years and long nights of hard work and perseverance, she earned her master's and doctorate degrees from Rutgers University, as well.
"My mother always said, 'Do your best work because you never know who is watching,'" Gaba recalled.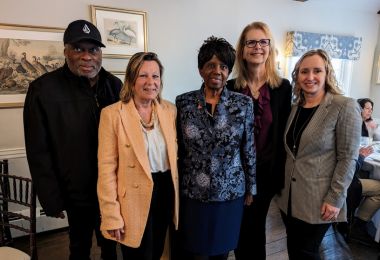 Prior to joining Atlantic Cape, Gaba served as Provost and Associate Vice President for Academic Affairs at Union County College, and Associate Director of the Office of Board Affairs and Government Relations at the New Jersey Department of Higher Education.
Over the past six years as Atlantic Cape's president, Gaba has overseen improved campus technology and facilities upgrades; rebranding and enhanced marketing initiatives; launch of the new college website; revitalized community engagement projects; increased high school partnerships including articulations, dual enrollment and Early College programs in Atlantic and Cape May counties; and partnerships with local counties to advance economic development in the region.
Gaba and her Atlantic Cape leadership team have been working tirelessly to eliminate the obstacles of affordability, flexibility, technological disadvantages and academic challenges that may preclude students from being able to access a higher education by awarding scholarships to new and returning students, opportunities at free tuition, more than 43 degree programs offered at three campuses both online and in-person with flexible scheduling, a laptop loan program, food pantries to combat food insecurity, and an Accelerated Learning Program for full/part-time students and more.
"Although being a college president is a very challenging and time-consuming job, I love the work, and it gives me a great deal of satisfaction to make a difference in the lives of our students and our community," Gaba said. "Because when I see my students, I see myself. This is what I have aimed to do since I first began working many years ago, and it is my passion to serve, to give back. It is a wonderful feeling to go to work every day and do something you are passionate about, and where you feel you are making a difference."
The Public Relations Council of Greater Atlantic City annually recognizes an exceptional woman each year during Women's History Month to celebrate the many contributions that women have made in our area, nation and society.
About Atlantic Cape Community College
Atlantic Cape is a comprehensive two-year community college serving the residents of Atlantic and Cape May counties. The college offers over 40 career, transfer and workforce development programs to more than 8,000 students annually at three campuses in New Jersey: Atlantic City, Cape May Court House and Mays Landing.