Return to All News
Atlantic Cape Offers New Lab and Lecture Course on Drones for Local High School Teachers
10/17/2022 | Media Contact: David Zuba, Public Relations Manager and Copywriter | (609) 343-4933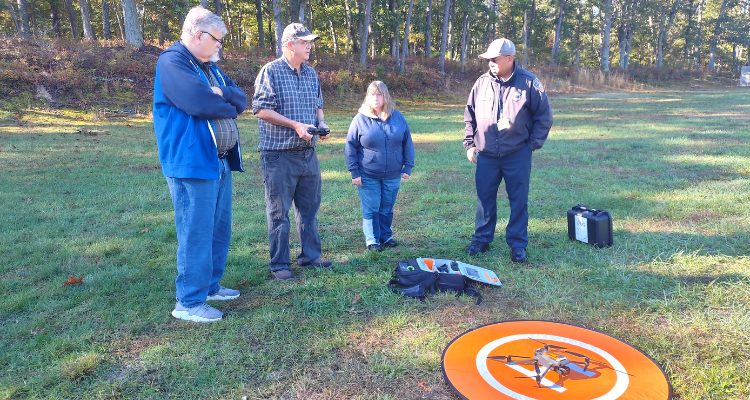 MAYS LANDING — Atlantic Cape Community College, in collaboration with high school partners throughout Atlantic and Cape May counties, recently began a 45-hour sUAS Operation-Multi-Rotor drones for teachers lecture and lab course at Atlantic Cape's Mays Landing Campus.
This initiative, created by Dr. Otto Hernandez, Professor, CIS, ISAS at Atlantic Cape, is taught by instructor Mr. Jamieson Allen of the Atlantic City Fire Department and currently has 12 high school teachers enrolled in the course from seven local area high schools. "As part of our continued collaboration with our high school partners in Atlantic and Cape May counties, Atlantic Cape Community College has created a course specifically tailored for high school teachers," Dr. Hernandez said. "This will enable the participating high schools to meet their demand for this course in a seamless manner."
The course, which is being funded through the Atlantic Cape Foundation by a private trust, is critical in today's technologically-advanced and rapidly changing world. "The Foundation is proud to work with our amazing donors that give to support scholarships for students and college programs and services," said Atlantic Cape Foundation Executive Director Jean McAlister. "We are very lucky to have such caring donors who connect with the Foundation to find innovative ways to support the needs of our students, faculty, staff, and community."
The high schools that are currently taking part in this course include: Atlantic City High School, Cape May County Technical High School, CharterTech High School for the Performing Arts, the Greater Egg Harbor Regional High School District, Lower Cape May Regional High School, Pinelands High School (Ocean County) and Pleasantville High School. Once the high school teachers complete the course their respective schools will then be able to add a drone program as part of their traditional school curriculum.
"Aviation Drone technology is an emerging industry that our students should be exposed to," Pleasantville High School Principal Dr. Lapell Chapman said. "Every avenue of aviation that this area offers and any partnership that we can establish with local colleges and universities will go a long way towards ensuring that there is a pathway to higher education for our high school students."
As the use of drones has increased their uses have expanded. Aerial drones may be used by professional photographers, government officials, commercial industries and more. Because of this, there is a need to educate and train the next generation of drone operators to fill these new positions.
"Drones can provide a practical hands-on way for students to apply mathematical and scientific principles," said Mr. Anthony Tsourounakis, Special Education/Mathematics teacher at CharterTech High School for the Performing Arts and one of the 12 teachers currently enrolled in the course. "Students may find different creative uses of a drone, including aerial photography and video to enhance school and personal projects."
Atlantic Cape is currently offering the course only once, but if demand increases additional classes may be added in the future. 
About Atlantic Cape Community College
Atlantic Cape is a comprehensive two-year community college serving the residents of Atlantic and Cape May counties. The college offers over 40 career, transfer and workforce development programs to more than 8,000 students annually at three campuses in New Jersey: Atlantic City, Cape May Court House and Mays Landing.