Return to All News
St. Augustine students polish culinary skills at Atlantic Cape
06/16/2022 | Media Contact: Claire Sylvester | (609) 343-4933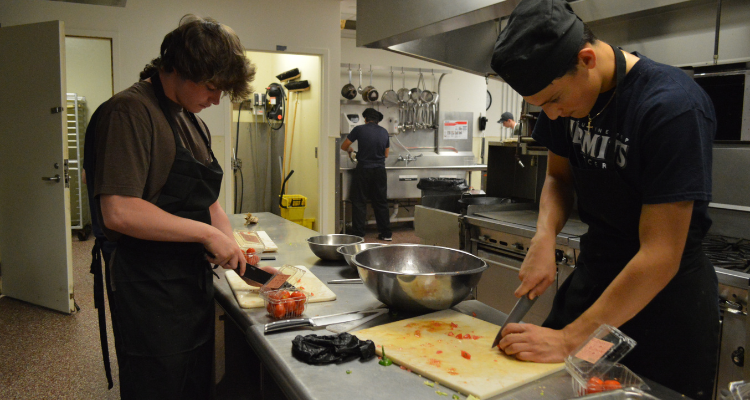 MAYS LANDING — Sal Coppola, 16, of Mt. Laurel currently works at his family's restaurant in Medford, but admitted he didn't have much back-of-the-house experience.
"My father owns a kitchen and I wanted to learn what happens behind the line," Sal said from one of the kitchens at Atlantic Cape Community College's Mays Landing campus on June 7 where he was preparing arepas.
Sal was one of about 30 students from St. Augustine Preparatory School in Buena Vista Township who convened at the college for a two-week culinary course that culminated Thursday, June 8 with a luncheon for parents and family catered by the students.
After a two-summer hiatus, St. Augustine's Third Semester program for incoming freshmen, sophomore and juniors, returned to Atlantic Cape.
"The concept is to take them out of the classroom so they can learn and bring that knowledge back into the classroom in September," said Ray D'Amico, Third Semester faculty member.
In total, about 300 St. Augustine students participate in the program that was started over 20 years ago. Atlantic Cape has been a host site for the last 15 years.
"They're loving it," D'Amico said.
Chef Karen Miller, who leads the Third Semester programming for Atlantic Cape, said that the students learned kitchen safety, knife cuts, sanitation, basic cooking techniques, how to work as a team, and about famous dishes from each country.
"The first five days of their time with us we covered international cuisine. They also got to do a 'Chopped' style challenge as well as a trivia challenge," Miller said. "They've done an amazing job for not having culinary experience prior to this."
In Chef Briana "Peaches" Husak's kitchen, Alex Zeck, 15, of Mullica Township was chopping eggplant for ratatouille while his classmates were coq au vin and yakisoba noodles. Across the hall, Chef Miller's students were preparing chicken saltimbocca. And downstairs, Chef Annmarie Chelius and her, "Baker Boys," as she dubbed them, were making mini tiramisus in one kitchen.
The students said that through the program at Atlantic Cape, they have become much more comfortable in the kitchen.
 "I've been able to cook at home the past couple of nights," said Jake McGough, 15, of Medford.
They also acknowledged the career and job potential that having kitchen skills can provide.
"In the summer, down the shore, a lot of jobs are in restaurants," Jack Gounaris, 15, of Medford said.
Coppola said in addition to the cooking skills he picked up, he also learned more about sanitation and communicating with his "team" whether it be his classmates or his coworkers.
Gabe Schiller, 15, of Millville, said he was also pretty unfamiliar with the kitchen prior to Third Semester, but after two weeks at Atlantic Cape, he was ready to start cooking more for his family at home.
"I wanted to learn how to cook and just have that skill because it's a very important skill to have in life," Schiller said.