Return to All News
Atlantic Cape Community College hosts 55th annual Commencement
05/20/2022 | Media Contact: Claire Sylvester | (609) 343-4933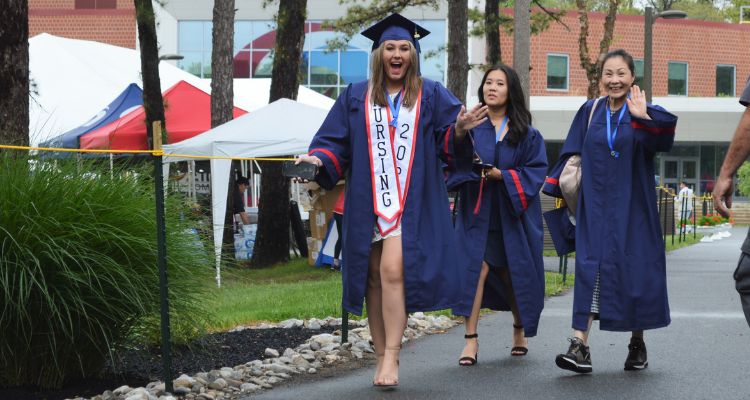 374 members of the Class of 2022 participated in the ceremony and more than 800 received degrees
Nearly 400 students walked across the stage to accept their diplomas as family and friends cheered them on during Atlantic Cape Community College's 55th annual Commencement held Thursday, May 19, in the Quad of the Mays Landing campus.
This ceremony marked a return to a traditional, in-person Commencement following a virtual ceremony in 2020 and a drive-thru and virtual ceremony in 2021 due to the COVID-19 pandemic.
The Class of 2022 included 819 students receiving 849 associate's degrees in 57 programs. Atlantic Cape President Dr. Barbara Gaba welcomed and encouraged the 374 students in attendance Thursday to savor the day and soak in their successes.
"You have overcome the challenges and figured out ways to do the best you can with what life has thrown at all of us. Handling illnesses in the family, home schooling children, remote instruction, changing the way we celebrate milestones and holidays, homelessness, and mental health issues to name a few unbelievable obstacles that this class has had to overcome to make it here today," Gaba said. "Graduates, we are all so excited to see what you will choose to do, what influence you decide to have. I know that your choices will be meaningful and make a difference."
This year's keynote speaker was James Allen, chairman of Hard Rock International and CEO of Seminole Gaming. Allen, a Mainland Regional High School graduate who took classes at Atlantic Cape, was presented with an Honorary Associate in Applied Science in Hospitality Management in recognition of his accomplishments and commitment to the Atlantic City region and Atlantic Cape Community College students.
"Certainly, financial success is important and, certainly, you'll want to provide for yourselves and your family, but real success is when you find a balance in life," Allen told the graduates. "Based upon the amazing education you received here at Atlantic Cape, you now have the first step and tools, you can do it. You certainly need others to help you along the way, but remember one thing: Never lose the belief in yourself. Because you are an individual and if you look at yourself as an individual you can do anything you put your heart and mind out to do."
Other guest speakers were Caesar Angeles Sanchez Lara, president of Atlantic Cape's Student Government Association, and Fredy Gerardo Flores, 4.0 High Honors student.
"Together, we have confronted unordinary circumstances and molded them into an opportunity to define this day as a success against all odds. Even those out of our control. Today we recognize exactly what that success means. It means you did it," Sanchez Lara told his classmates. "Use today as a baseline to recognize yourself in future opportunities. Use it as a testament to what you can do. Your future is malleable and you are in control."
"To my fellow graduates, today we are writing our own history. Whether we are continuing our education or going into the workforce, today is a key moment that will make our future possible. I can't wait to see what more we will accomplish in our lives and what history we will write," Flores said.
Thursday's ceremony included five high school seniors from the Atlantic County Institute of Technology, three from Middle Township High School, six from Absegami High School, one from Cedar Creek High School, and 23 from Pleasantville High School, who earned their associate's degrees through the Early College High School program.
In addition to the Commencement ceremony, two awards ceremonies were held on campus this week for the Academy of Culinary Arts and the Nursing program.
On Wednesday, 24 students in the Academy of Culinary Arts received medals and certificates for completing their programs and about 100 students in Atlantic Cape Community College's Nursing program received their pins and took a vow to care for the sick, a tradition that dates to the 12th century.
Browse our galleries from Commencement, Academy of Culinary Arts and Nursing: