Return to All News
Atlantic Cape and Boys & Girls Club provide ESL classes thanks to Borgata grant
11/29/2021 | Media Contact: Claire Sylvester | (609) 343-4933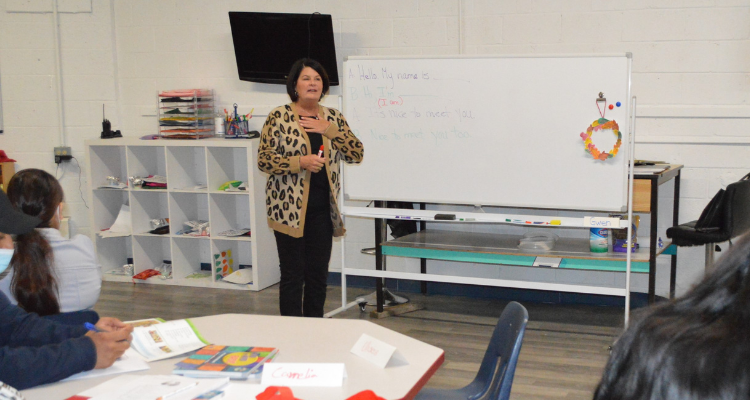 Atlantic Cape Community College and the Boys & Girls Club of Atlantic City have partnered to offer English as a Second Language classes for club parents thanks to a $9,500 corporate grant from Borgata Hotel Casino & Spa.
The "Preparing English Language Learners for Successful Employment in the Workplace" workshop is in line with the college's commitment to community outreach and is helping English Language Learners to learn or improve English listening, speaking, reading and writing skills.
"As a community partner in Atlantic City, Atlantic Cape takes seriously its commitment to improving the lives of the residents by providing affordable educational experiences and career advancement opportunities," said Atlantic Cape President Dr. Barbara Gaba. "The English as a Second Language (ESL) classes are made possible at no cost to the parents thanks to the generosity of our partner MGM Resorts-Borgata Casino Hotel & Spa. This parent ESL program not only helps to address the needs of English language learners in the city, who make up a third of the population, but also addresses the needs of local businesses, by building up a strong and capable workforce. We are extremely proud and honored to be able to offer this workshop to parents whose students attend the Boys & Girls Club in Atlantic City."
The workshop, taught by Atlantic Cape's ESL credit professors, is being held once a week for five weeks at the Boys & Girls Club's Chelsea site. The first cohort of 15 parents from Atlantic City began on Tuesday, Nov. 16.
"The Boys & Girls Club of Atlantic City believes in supporting our entire Club Family, for the greater benefit of our Atlantic City community. We are working to build a two-generation approach to services, providing opportunities for education, workforce development and supportive services to our Club Parents, as well as our Club Kids," said Stephanie Koch, chief executive officer of the Boys & Girls Club of Atlantic City. "Offering the ESL parent program to our Chelsea Club families is just the beginning and we are incredibly grateful to Atlantic Cape Community College and Borgata for making this possible."
Koch explained that there is a large population of families who attend the Chelsea Club of which Spanish is the primary language spoken in their home.
"To ensure our services are inclusive and accessible, the Boys & Girls Club employs a high number of bilingual staff members at the Chelsea site to support these families," she said. "We have found that our families want to learn English so they can support their children in their educational pathways, being able to communicate with their teachers and schools; and also, so they have a wider array of job opportunities available to them in Atlantic City."
In July, Borgata, which is operated by MGM Resorts International, announced it was awarding a total of $89,500 in grants to organizations based in Atlantic City that were focused on the betterment of their community.  
"As the largest casino employer in Atlantic City, Borgata relies on our dedicated workforce, many of whom have diverse cultural backgrounds and are non-native speakers, to fill hundreds of positions on a regular basis. We understand the importance of offering educational resources to our community and are proud to support the efforts of the Atlantic Cape Community College, giving the parents of Atlantic City Boys & Girls Club's members the opportunity to further their English language skills," said Hugh Turner, senior vice president and chief financial officer for Borgata. "In addition to providing grant assistance for this important initiative, Borgata partners with Atlantic Cape to offer classes for and to enrich the lives of our employees as part of our commitment to focusing on education and workforce development."
Atlantic Cape will continue to offer these workshops in the community throughout the spring semester at other community-based locations.