Return to All News
Clothesline Project brings domestic violence awareness to Atlantic Cape
10/22/2021 | Media Contact: Claire Sylvester | (609) 343-4933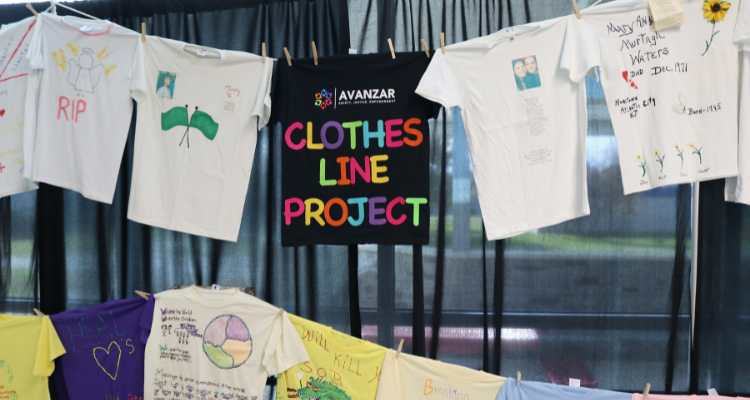 MAYS LANDING — In recognition of Domestic Violence Awareness Month and to spread awareness to the campus community, Atlantic Cape Community College welcomed Avanzar and The Clothesline Project to the Student Center at its Mays Landing campus Thursday, Oct. 21.
Avanzar is a local nonprofit dedicated to helping victims of domestic violence. The Clothesline Project is a visual display designed to bring awareness to assault and abuse by hanging T-shirts designed by victims of violence, or their loved ones, that share their stories.
Students, faculty and staff were invited to decorate their own T-shirts as part of the Project.
According to data from the National Coalition Against Domestic Violence, one in three women and one in four men have experienced physical violence from an intimate partner in their lifetime. In New Jersey, domestic homicides made up 14% of all homicides reported in 2016.
Advocates like Donna D'Andrea, legal services coordinator for Avanzar, say there is always a need for more awareness about this type of violence, which is where The Clothesline Project comes in.
"It puts a voice to a survivor and individuals who are connected with them," D'Andrea said. "College campuses have such a mixed age group, but for young people especially, we're just hoping to have them better informed and put some red flags out there so they can recognize behaviors."
Lisa Givens, manager of Student Engagement at Atlantic Cape, said that the college's relationship with Avanzar, formerly The Women's Center, is a valuable one that goes back many years.
"We've always thought that it was an important topic - domestic violence - because it's a very silent pain that many women suffer through," Givens said. "We love the partnership with Avanzar and we appreciate their mission. Anybody can be a victim of domestic violence and intimate partner violence."
If you or anyone you know need help related to domestic violence or intimate partner violence, call Avanzar's 24-hour hotline at 1-800-286-4184 or text 609-569-5437.
For more information about services in Atlantic and Cape May counties, visit avanzarnow.org, cara-cmc.org or njcedv.org.