Find out more information about Atlantic Cape's Nursing and Health Science programs.
Atlantic Cape offers opportunities for those interested in nursing and health science programs to learn about the program requirements, courses, and current/future job potential -- plan to attend an upcoming information session for more information. At Atlantic Cape we are here to help you succeed. 
For information about applying to our Nurses Program or any of our Heath Science programs please visit our Admissions page. 
Medical Imaging Information Session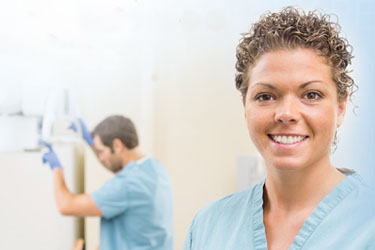 Looking for a career in medical imaging? Join us for an information session in conjunction with the Shore School of Radiologic Technology
Health Information Technology Virtual Webinar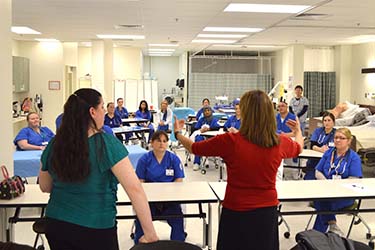 Learn the different opportunities gained through a career in Health Information Technology:
Nursing Application Q&A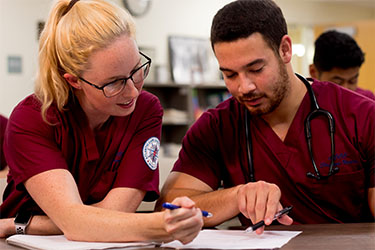 This session will seek to answer any questions you may have in completing and submitting the Nursing application at Atlantic Cape Community College:
About the Nursing and Health Sciences Programs
Myrna Morales Keklak, Assistant Dean, Nursing & Health Sciences
Associate Professor of Nursing
Office: H-125
Telephone: (609) 343-5033
e-mail Myrna Morales Keklak
Sharon Andress, Assistant Professor, Nursing
Office: H-131 
Telephone: (609) 343-5404 
e-mail Sharon Andress
Deborah DaGrosa, Assistant Professor, Nursing
Office: H-128
Telephone: (609) 343-5035
e-mail Deborah DaGrosa
Erin DeLong, Assistant Professor, Nursing
Office: H-131
Telephone: (609) 343-5411 
e-mail Erin DeLong
JoAnna Johns,  Assistant Professor, Nursing
Office: H-132
Telephone: (609) 343-5042
e-mail JoAnna Johns
Barbara Long,  Program Specialist, Nursing & Allied Health Programs
Office: H-121
Telephone: (609) 625-1111 ext. 5356
e-mail Barbara Long
Dr. Geralyn Michelfelder, Professor, Nursing
Office: H-130
Telephone: (609) 343-5027
e-mail Dr. Geralyn Michelfelder
Lawrencia Nnadi, Senior Nursing Lab Manager
Office: H-109
Telephone: (609) 625-1111 ext. 5347
e-mail Lawrencia Nnadi
Stephanie Neville, Senior Nursing Clinical Instructor
Office: H-133 
Telephone: (609) 343-5512
e-mail Stephanie Neville
Polly Thieler, Assistant Professor, Nursing
Office: H-133
Telephone: (609) 343-4964
e-mail Polly Thieler
Karen Zaniewski,  Assistant Professor, Nursing
Office: H-130
Telephone: (609) 343-5029
e-mail Karen Zaniewski
The Nursing Program at Atlantic Cape was developed in 1967 by Professor Ruth M. Lee. Sixteen students graduated in the first class of 1969. At that time, the program was housed in various facilities throughout Atlantic County. Ten years later, the Ruth Lee Allied Health Building on the Mays Landing Campus opened. Nursing classes continue to be held in this building, and clinical experience for the students takes place in hospitals, long-term care facilities and community agencies throughout Atlantic and Cape May counties. Currently, there are approximately 225 students enrolled, and eight full-time nursing faculty and 38 clinical specialists. Nursing Program graduates work in health care facilities throughout Atlantic and Cape May counties and in other parts of the state and beyond. Many have advanced degrees and provide leadership in all areas of health care.
The Atlantic Cape Nursing Program is accredited by:
The New Jersey Board of Nursing
124 Halsey Street, 6th Floor
Newark, New Jersey 07102
(973) 504-6430 and in NJ (800) 242-5846
Accrediting Commission for Education in Nursing (ACEN)
3343 Peachtree Road NE, Suite 850
Atlanta, Georgia 30326
(404) 975-5000
The mission of the Nursing degree program is to graduate competent, ethical and caring nurses; and to be responsive to current and evolving health care needs of the community. The department encourages the enrollment of a diverse student population to reflect the communities that are served. Students and graduates are encouraged to perform public service in their community and pursue lifelong learning.
Atlantic Cape's Student Nurse Club (SNC), a community service club, is one of the most active clubs on the campus. Club members have worked with Habitat for Humanity, CARA (Coalition Against Rape and Abuse) of Cape May County, and the Hamilton Township Health Department. Members have assisted with the cleanup of the Atlantic County 4-H grounds, various streets, and several beaches along our shore line. Club activities have included collecting food, books, mittens and other articles to donate to the needy in Atlantic and Cape May counties. The club was a recipient of the state-wide Community Health Award and an honorable mention. As a member of the nursing student body, students are automatically members of the constituency. The club is also open to pre-nursing students. Club meetings are open to anyone who is interested in helping the community. Check the bulletin boards in H-building for meeting SNC meeting updates. Contact   Myrna Morales Keklak, Assistant Dean, Nursing & Health Science Programs at mkeklak@atlantic.edu with questions.
For more information
Contact the Counseling area by contacting Dennis Jones on the Mays Landing campus J building room 174 or by phone (609) 343-5629 and e-mail djones@atlantic.edu
General mailing of information about Allied Health Degree Programs can be obtained from the Admissions Department at (609) 343-5000, or (609) 463-4774, ext. 5000.