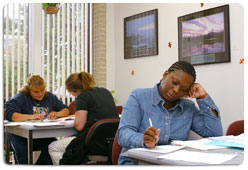 The Learning Assistance Center (LAC) in Mays Landing consists of a main computer lab and three tutoring labs. The computer lab is located in D114 and has approximately 66 computers loaded with the software necessary to take any course offered on campus. The tutoring labs include Reading/Writing Lab (D111), Math Lab (D113), and SSS Lab (D118). LAC services are free for all currently registered students.
Learning Assistance Center Hours
All Campuses
Monday - Thursday 8 a.m. - 9:30 p.m.
Friday - Saturday* 8 a.m. - 3:30 p.m.
*Please note: Cape May campus does not have Saturday hours.
Content Tutoring
*Hours may vary when courses are not in session